Home
→ FS Essential Vitamins. Glucosamine & Chondroitin, 60 capsules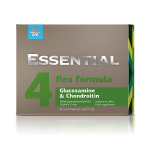 Buy
FS Essential Vitamins. Glucosamine & Chondroitin, 60 capsules
# 500651 42 g (60 Kapseln zu je 0,7 g)
Food supplement with glucosamine and chondroitin
Each capsule contains 398.5 mg of glucosamine and 108 mg of chondroitin. Glucosamine is the main component of joint cartilage and synovial fluid. Chondroitin is one more building element. Our musculoskeletal system with its joints, cartilage, tendons and ligaments faces challenges every day. A healthy musculoskeletal system is essential for a better quality of life at any age. Light workouts and healthy diet also contribute to it.
Free from synthetic supplements.
Glucosamine capsules do not contain emulsifiers and preservatives. They are also free from lactose, gluten and GMO. Not suitable for people taking coumarin anticoagulants, children, teenagers, pregnant and breastfeeding women.
Recommended use
Dospělým 2 kapsle denně během jídla. Uvedená referenční hodnota příjmu nesmí být překročena.
Upozornění a způsob uchovávání:
doplňky stravy by neměly být používány jako náhrada vyvážené, pestré stravy a zdravého životního stylu. Uchovávejte mimo dosah dětí. Neni určeno pro lidi užívající léky na snížení srážlivosti krve (jako je kumarin), děti, dospívající osoby, těhotné a kojící ženy. Jakákoli individuální nesnášenlivost by měla být před použitím konzultována s lékařem.
Skladujte v suchu a chráňte před světlem, při teplotě do 25°C.