Home
→ Yoo Go. Chews with calcium, 90 g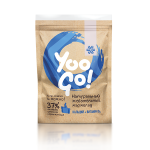 Buy
Yoo Go. Chews with calcium, 90 g
# 500426 90 g
Gelatin candies.
You will be surprised how tasty and healthy candies can be. Just 4 gelatin candies contain 47% of the daily calcium intake wrapped in a pleasant vanilla flavor.
Key facts about calcium:
Ensures normal energy metabolism.
Contributes to normal muscle functioning.
Helps to maintain the normal bones and teeth.
And of course, candies formula is fortified with vitamin D3, which contributes to the normal absorption of calcium and phosphorus!
Vitamin D helps maintain normal blood calcium levels.
Contents in 100 g
Fructose
37,4 g
Water
28,183 g
Gelatin
11 g
Concentrated apple juice
10 g
Starch syrup
6,2 g
Calcium phosphate
6 g
Calcium
2 340 mg
Acidity regulator – citric acid (E330)
0,5 g
Glazing agents:
0,2 g
Carnauba wax (E903)
Vegetable oil
Glazing agents:
0,2 g
Shellac (E904)
Vegetable oil
Vanilla extract
0,2 g
Vitamin D3
42,5 μg
Preservatives:
Sodium benzoate (E211)
0,05 g
Potassium sorbate (E202)
0,05 g
Nutrition value:
Energy value
1003 kJ / 236 kcal
Carbohydrates
49,2 g
Sugar
49,2 g
Fats
0,1 g
Saturated fatty acids
< 0,1 g
Proteins
9,6 g
Fiber
0 g
Salt
0 g
4 candies contain:
Calcium – 47% of RDI*,
Vitamin D3 – 136% of RDI*.
* RDI – Recommended Daily Intake.